IDR3,000,000.00
-22%
IDR2,340,000.00
Tax included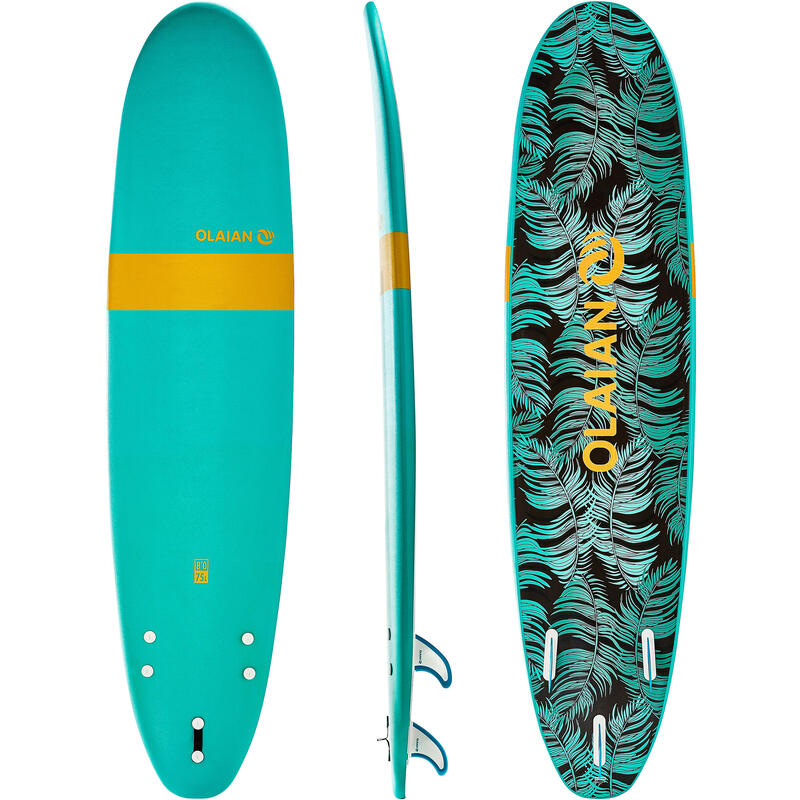 IDR3,000,000.00
-22%
IDR2,340,000.00
Tax included
Foam Surfboard 100 8'. Supplied with 1 leash and 3 fins.
Description
Our team of surfers and designers developed this board for beginners from 40kg to 70kg. For occasional use by competent surfers.
* Availibility stock in our website and store are the same. All orders are following stock availability at Decathlon Alam Sutera Store. If you wish to order from another store (Decathlon Bekasi/ Decathlon Taman Anggrek) please contact our team: 08174848448
This product is currently out of stock or unavailable
More than 60 sports
2-year warranty minimum
Free in-store pick-up
Free return & exchange
BENEFITS
Stability
Stable and easy board for learning; up to 65 kg. Foam construction. 75 L
Durability
Core with 3 wooden stringers. Rear reinforcement.
Ease of handling
Round tail and concave bottom.
Easy assembly / dismantling
Comes with 3 soft-edge fins and a 2.5 m leash.
TECHNICAL INFORMATIONS
Dimensions
Dimensions (inches): 7?7? x 22? x 3 1/4? Dimensions (cm): 235 x 56 x 8.3 Volume (L): 75 Weight (kg): 4.9 with fins
---
Shaper
Jeremy Smith (Hendaye)
---
Construction
Expanded polystyrene (EPS) core 3 wood stringers polyethylene deck high-density polyethylene (HDPE) base 3 soft-edge fins. Board designed for occasional use. For more frequent use, we recommend the 500 model.
---
Easy to assemble
A kit with three identical fins and single size screws so you can't go wrong. Comes with a plastic Allen key for tightening and a 2.5 m urethane leash with double swivel.
---
Using the leash
WARNING: never hold your board with your hands or fingers wrapped in the cord. This can lead to serious finger injury. Properly install the leash by checking the attachment to the board. Practice removing the leash from your ankle in the event of a problem.
---
Usage precautions
Warning: prolonged exposure to the sun or extreme heat can cause delamination. We recommend that you store your board in the shade and not inside a vehicle.
---
Suitability
For lightweight beginner adults under 70 kg in small waves. Its high-performance shape is also popular with experienced surfers for occasional use to catch as many waves as they can in summer.
---